November 3, 2020
After consulting with our local health professionals and county health officials, we are officially moving to the Orange Zone of our District Gating Criteria. Our building administrators will share details of what Orange means for each school specifically. You can read the October 30 update below to see a general overview of the Orange Zone, and you can see some of the details of our Orange Zone below.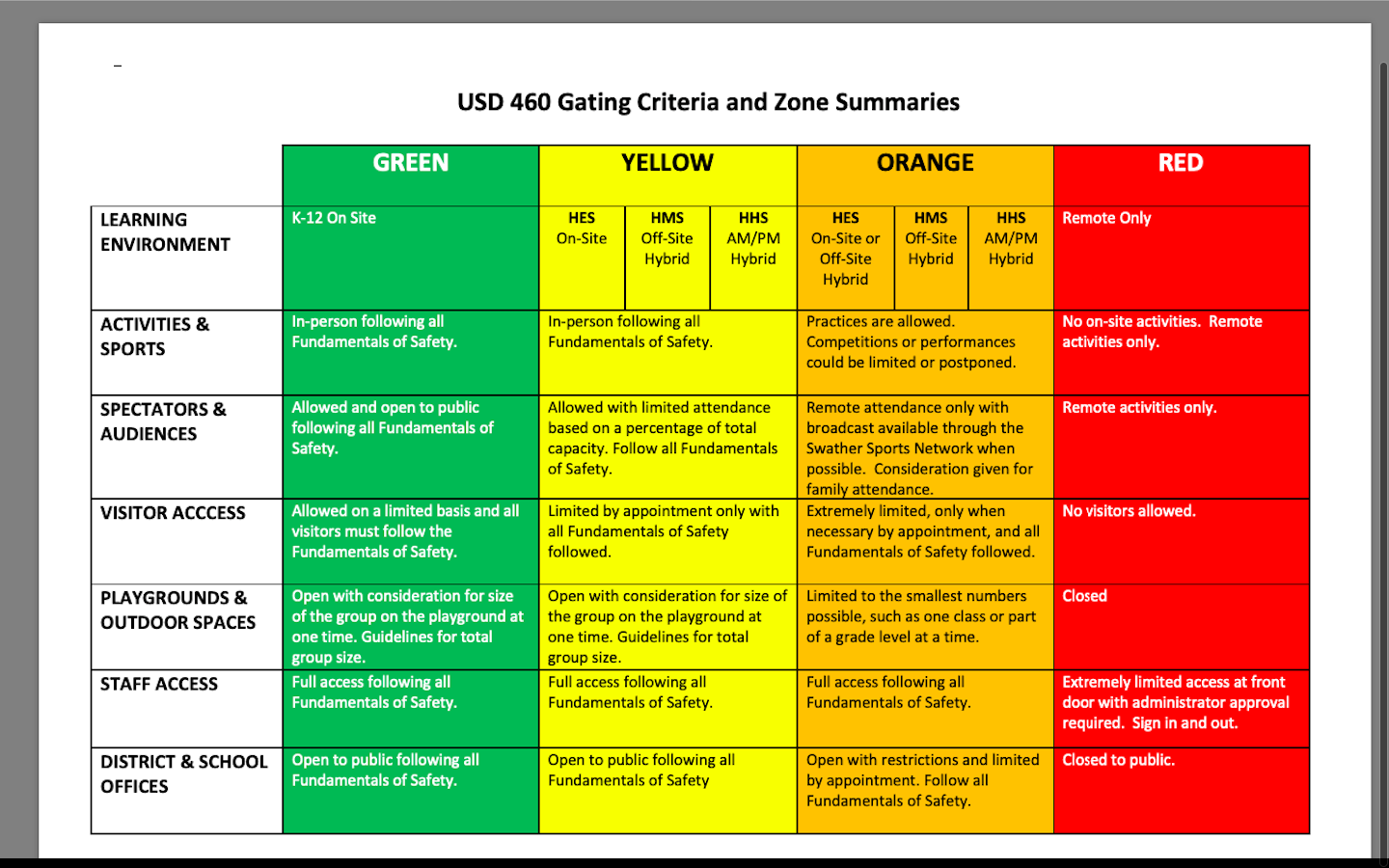 It is important to note that our elementary school will remain on-site at this time, but families of students in Grades 2 and 4 need to be "On Alert" for a possible move to our Off-Site Hybrid at HES. While we are seeing increases in COVID numbers in the county and school district, we feel we are managing well at HES at this time. That is why we are holding off on moving to the Off-Site Hybrid. Should we need to move to the hybrid model, 2nd graders will attend school at the Hesston MB Church and 4th graders will attend school at Whitestone Mennonite Church. More details on this will be provided at the building level.
Again, each building will send out additional information as to what Orange means for your child. Much of our efforts will be tightening up procedures with an emphasis on limiting the number of close contacts we have while in school by maximizing our spaces. The largest percentage of our COVID-related absences are due to close contacts, which means being within six feet of a positive case for at least 10 minutes. Close contacts are then required to quarantine 14 days.
There is no question we are seeing COVID-19 numbers grow in our region, county, and community. Please continue to remind your child to follow our Fundamental Mitigation Strategies: 1) Stay Home When Sick, 2) Wear a Mask, 3) Social Distance (6' x 10 Minutes), 4) Hand Hygiene. Our priority is to keep our students and staff safe and to make sure they can come to school and enjoy the extra-curricular and recreational activities that are so important to the school experience.
As a reminder, you can see our latest COVID Data Update, which was posted last Friday by clicking here. Please let me know if you have any questions on our move to Orange or anything else related to our school district. Our office number is 620-327-4931, and my email is ben.proctor@usd460.org.
Respectfully,
Ben Proctor