October 1, 2021
COVID Update
Each Friday we update our COVID-19 numbers for the school district, and you can access our most recent data report by clicking here. This week's report includes zero active cases, zero quarantines, and zero absences related to COVID.
We continue to operate in the Green Zone of our District gating criteria, and you can see the details of that criteria by clicking here.
Facilities Discussions
We've had ongoing discussions about our long-term district facilities since January 2021. You will find information on these discussions and our ongoing work by clicking here. We are currently working with SPT Architecture to explore possible facility improvements, and we have a community-based steering committee that is meeting every few weeks to establish priorities related to district facilities. We will continue to provide updates on our work and will keep our website updated with new information.
September 21, 2021
Each week we share detailed COVID-19 data reports, and you can access that data by clicking here. Click on the report to scroll through from week to week.
For this past week's data report, we added information on our antigen testing process that allows students to remain in school after being identified as a close contact. Over the past few weeks, we have administered 335 tests at school with four of those returning positive results for COVID. Additionally, we have identified 176 close contacts at school this year, and 10 of those students have eventually tested positive for COVID. This data gives us a better indication of how likely our close contacts are to test positive. So far, approximately 1% of our modified quarantine students have tested positive and approximately 5.5% of our total close contacts have tested positive, which could be on a school administered test or a test administered outside of school. You can see our most recent data report below.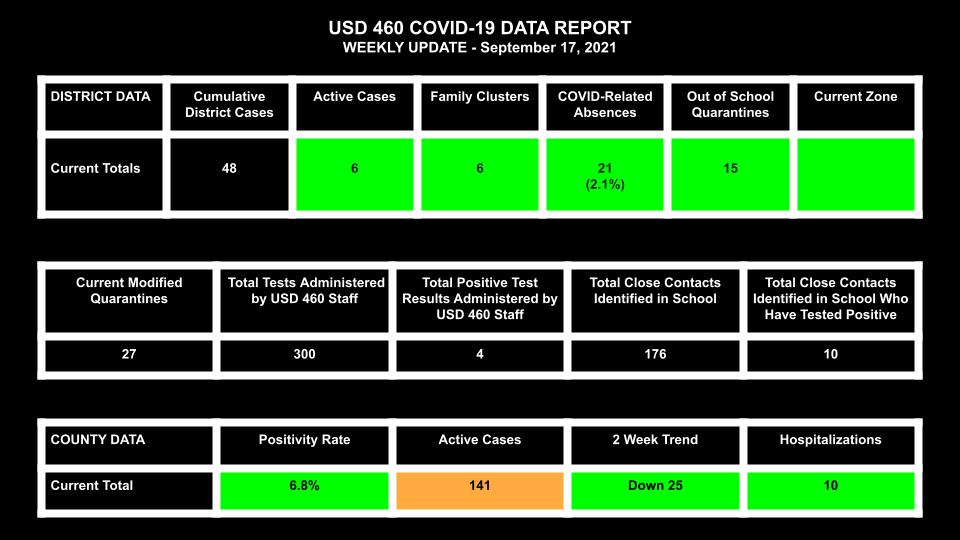 We are currently operating in the Green Zone of our District Gating Criteria. The Gating Criteria guides our COVID mitigation protocols based on school district and county data. Our week-ending data points were all in Green, and we have seen some improvements in the data as we've gone through the first part of this week. We will continue to update our data weekly, and we send the reports out through our district mobile app each Friday afternoon, typically after the county has updated the dashboard.
We continue to appreciate everyone's patience as we make decisions about COVID mitigation in our school district. We've seen some ups and downs so far this year, but overall, things have gone well. Kids are in school and our teachers are working hard to create the very best learning environment possible. Fall activities are in full swing, and we are looking forward to seeing our kids continue to participate and perform in a variety of co-curricular and extracurricular activities.
Respectfully,
Ben Proctor, Superintendent