Hesston regional Golf will play tomorrow at 9 am. All golfers will start on hole 10.

Reminder: USD 460 Hesston Patent Advisory Teams/District Site Council meeting tonight at 6:30. HHS Commons

USD 460 Site Council/ Parent Advisory Team Meeting; Wednesday, April 26. 6:30-7:30 HHS Commons. Topics: KSDE Accreditation and Bond Progress.

Thursday, April 6th. Thanks to our transportation department and Mrs. Reimer for getting our kids to where they need to go, even on the busiest of days!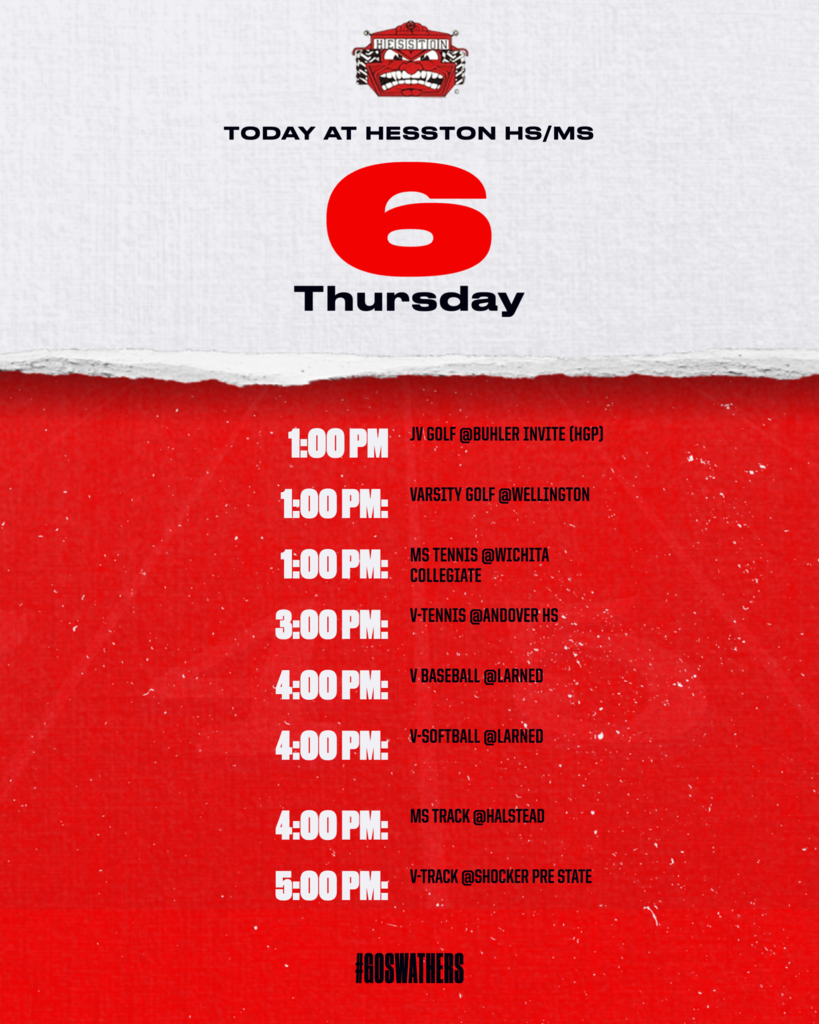 REMINDER: Faculty and Community Update on USD 460 Bond Progress. 7pm in HHS Auditorium. Design Team will have the presentation.

USD 460 Hesston will have a Faculty and Community update on our bond project progress Wednesday, March 29 @7pm in the HHS Auditorium. The design team will be there to present the concept of the new MS/HS.

USD 460 Hesston Parents and Staff, It has been brought to our attention that there was confusion between calendars on our website. The incorrect calendar has been replaced with the correct version. The correct schedule has a NO SCHOOL day on Friday, Feb. 17 and a NO SCHOOL/School Improvement day on Feb. 20th. All other days for the remainder of February 2023 are In-School Attendance days. --K. Logan

Happy Thanksgiving from Hesston Elementary School! Wishing you a blessed holiday with family and friends. School will not be in session November 23-25. See you all on November 28.

Happy Thanksgiving from Hesston High School! Wishing you a blessed holiday with family and friends. School will not be in session November 23-25. See you all on November 28.

Happy Thanksgiving from Hesston Middle School! Wishing you a blessed holiday with family and friends. Schools will not be in session November 23-25. See you all on November 28.
Reminder to USD 460 Patrons: Tonight is a Bond Information session at the HHS Commons. 7pm

HHS Students and Parents - We will be using a Monday bell schedule all week. Class begins at 8am each day! Looking forward to a great first full week of school and the start of fall sports practices. The high school campus will be busy!
Community Forum to discuss bond issue on Monday Aug 15 & 22. 7pm each night in HHS Auditorium.

USD 460 has several job openings for the coming school year. These positions include: Paraeducators, Secretary, Cook, Custodian, and Accompanist. Click the following link for more information and application information:
https://hesston.tedk12.com/hire/Index.aspx

Good luck today to our tennis players as they compete for a chance to go to state!

At this evening's meeting, the board of education voted unanimously to approve a contract to Kevin Logan as superintendent of Hesston USD 460. The news release submitted to the local newspaper is printed below. The USD 460 Board of Education has announced the selection of Kevin Logan as the new superintendent for Hesston schools. Logan will take the reins on July 1, 2022 following the departure of Ben Proctor, who has accepted a position with the Kansas State Department of Education, in Topeka. Logan has broad educational experience as a teacher, principal, and superintendent. He is currently serving as superintendent of Rock Creek USD 323 where he oversees two elementary schools, a middle school, and a high school, with a budget of more than $22 million. Under his leadership at USD 323, the district completed a $30.6 million bond project and a successful KESA Accreditation Cycle, and implemented a universal Pre-K model. Regarding his selection, Logan said, "It is my honor to be selected as the next superintendent of USD 460. Hesston Schools have a long history of excellence in all facets of education. From my earlier experience as a teacher in Hesston, I have witnessed how proud the community is of its students, teachers, and schools. I look forward to working with all stakeholders; and together we will strive to reach the USD 460 Vision." Board President Layne Frick says that Kevin Logan emerged from a very thorough search process as the right candidate to lead USD 460. "The Board is confident in our choice of Kevin Logan and certain that under his leadership USD 460 will continue to be recognized as a top school district in the State." Frick explained that community input, including the involvement of stakeholders, was a key factor in the success of the superintendent search process. The committees included teachers, classified employees, administrators, parents, and community members. "The input from the community as a whole was very helpful to our process." From a pool of qualified applicants, the Board selected three finalists, who were interviewed by the Board on April 19-21. "As a school board, we feel we made the right selection to serve our students and our community and are excited to welcome Kevin Logan as our next superintendent."


USD 460 will host a Parent Advisory Team and Site Council meeting on Wednesday, April 27 at 5:00 pm at Hesston High School. Please click the following link to learn more about this opportunity for parents of USD 460 students.
https://bit.ly/3NKbULB

Halftime

You will find a message from superintendent, Ben Proctor, and the USD 460 Board of Education...
https://bit.ly/3hOa8u4