You will find this week's COVID-19 data report for USD 460 by clicking the following link...
https://bit.ly/2OWpphH

Reminder to USD 460 residents, our Board of Education seeks community feedback on our long-term facilities planning. Please click the link and complete the community survey by April 26.
https://bit.ly/3sodCqa

Linked below is information on USD 460 facilities planning and includes resources and a survey about a possible new bond project. If you are a resident of USD 460, please take a look at the materials and complete the survey by April 26.
https://bit.ly/3g4db1H

HHS Sophomores have ELA state assessments tomorrow, April 12, at 8am! Frosh, Jrs, Srs should all be to school by 9:20 for Crew....Wednesday schedule.

Reminder: An informational session on long-term facilities planning for Hesston USD 460 will take place this evening, 6 pm, in the HHS auditorium. It will also be live-streamed on the Swather Sports Network. Please contact our district office if you wish to attend in person.

Linked below is a brief update that includes information on our upcoming long-term facilities community meeting and an overview of current COVID-19 data in the district.
https://bit.ly/2PPNjLY

USD 460 will host a community info session focused on Long-Term Facilities Planning on April 5 at 6 pm. There is limited in-person attendance capacity at the HHS auditorium & the event will be live-streamed for those unable to attend. More information at
https://bit.ly/3rk5OVQ

USD 460 will return to our Green learning environment on Monday, March 22. For more information and our latest COVID-19 data report click
https://bit.ly/3lxQy6z

3A STATE CHAMPS 2021!! Go Swathers!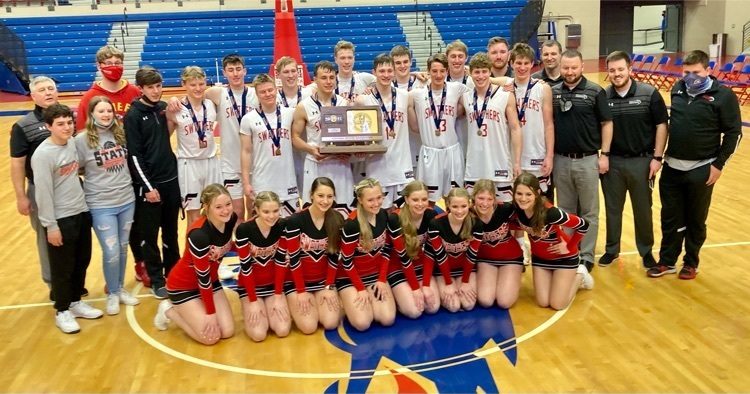 Hesston Robotics - 2021 Vex Robotics Kansas State Champions!! GO SWATHERS!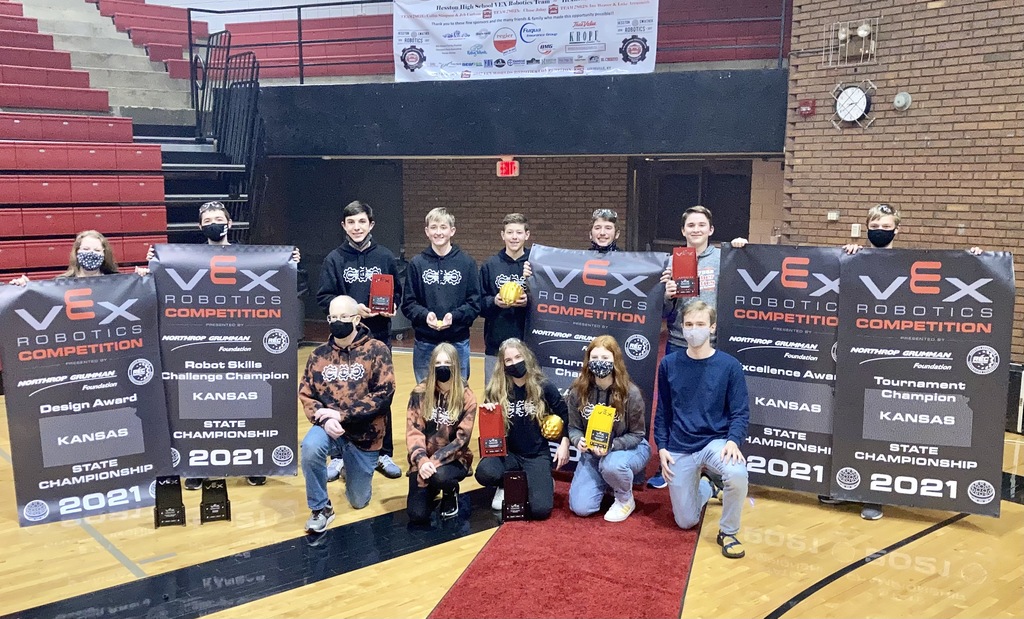 You can see the latest district COVD-19 data report and update by clicking the link that follows. USD 460 will move to our Green zone on March 22 and more details are provided in the update.
https://bit.ly/3cvdDm0

Reminder for Today...USD 460 will have a noon dismissal for all students K-12 on Friday, March 12.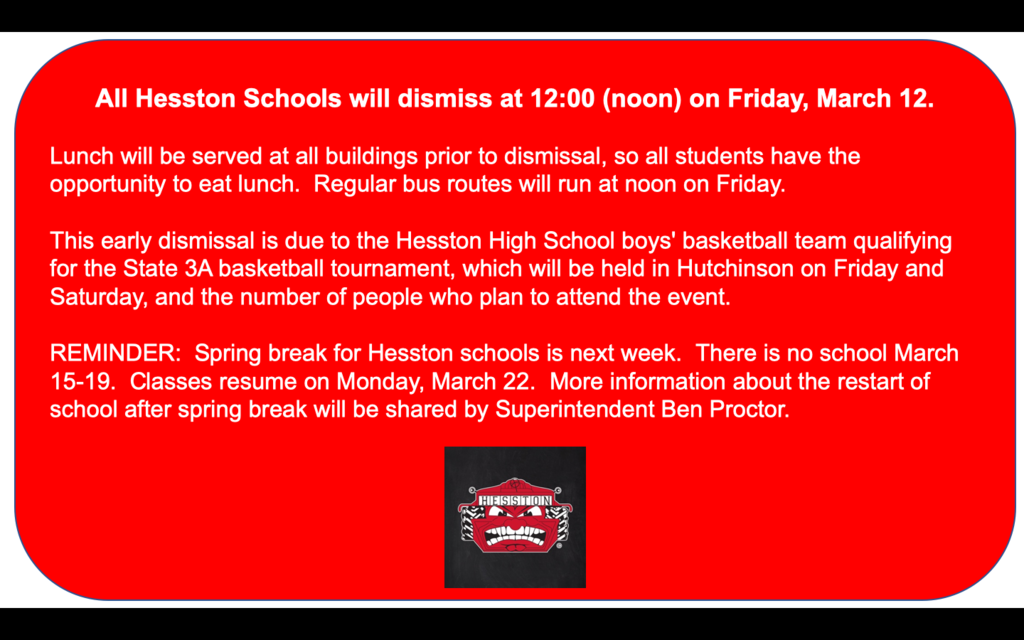 USD 460 will have a noon dismissal for all students K-12 on Friday, March 12.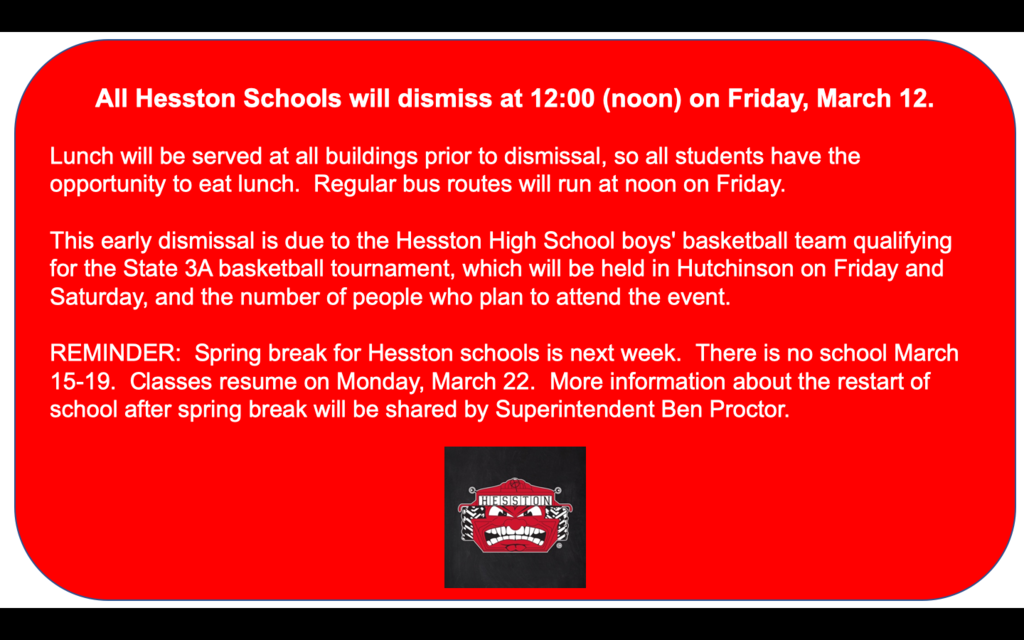 You will find the latest Hesston Schools update on COVID-19 by clicking the link below. We are currently operating in our Yellow zone, but we are "On-Alert" for a return to Green after spring break. Click the following link for more information
https://bit.ly/2PsMd8v


Congratulations Alison Nikkel - Pathway Scholarship Award Winner! Please join us in congratulating Allison Nikkel, Hesston Elementary 1st Grade Teacher, on being selected as the Ken Ogdon $500 Scholarship winner. Each year, Ogdon Financial Group (OFG) & Security Benefit selects one Horizon Award recipient from each of the four different KS regions as a scholarship winner. Ogdon Financial Group has worked with schools in the Section 125 benefits and 403b retirement markets for over 50 years. We also want to congratulate all Horizon Award winners and a big thank you to all teachers, administrators, and facility members who have worked so hard to keep our schools safe during this difficult year. We greatly appreciate your efforts! The Horizon Award educator in each region whose nomination received the highest score from the selection committee will be named the recipients of the Ken Ogdon scholarship. Candidates compete regionally, with each candidate's nomination reviewed and evaluated by a committee comprised of individuals representing exemplary educators, superintendents, and higher education institutions. The four elementary and four secondary candidates who receive the highest scores from the selection committees in each region are named Horizon Award educators. Following this same process, the Horizon Award educator receiving the highest score in each region would receive the Ken Ogdon/OFG Financial Services Inc. scholarship.

Tonight's Girls game entrance will be the through the main doors at HHS. Please note you will need your tickets on your phone ready to validate as you walk in. We will not be selling cash tickets at the door. If you need to still purchase your ticket you can purchase tonights or tomorrow's game at:
https://gofan.co/app/school/KS25145


Hesston HS hosts Larned tonight in CKL action. JV at 4:30, VG at 6 pm and VB at 7:30.